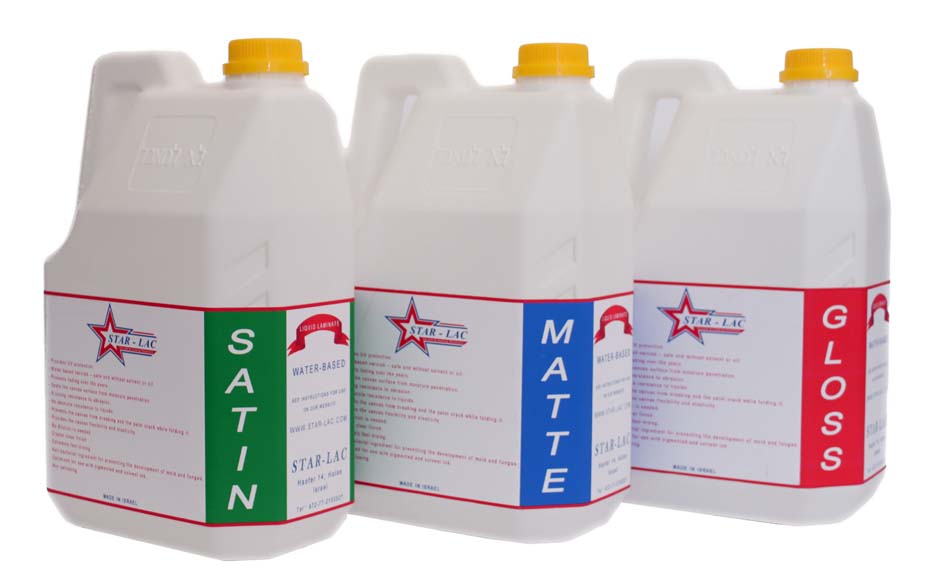 The Star-Lac Varnish is a water based liquid we have developed during a number of years, while learning the printing industry and adapting nanometers components to specifically be suitable for the photos printing industry.
Over the years, printing on canvas has replaced other past printing methods.
If you print on canvas and want to accomplish a high level finish without compromises – you should examine the benefits of the Star-Lac Varnish:
– Provides UV protection due to the nanometers additives

.
– Water based varnish – safe and without solvent or oil

.
– Prevents fading over the years

.
– Seals the canvas surface from moisture penetration.
– A strong resistance to abrasion.
– An absolute resistance to liquids

.
– Prevents the canvas from breaking and the paint crack while folding it

.
– Provides the canvas flexibility and elasticity

.
– No dilution is needed.
– Crystal clear finish.
– An anti-bacterial ingredient for preventing the development of mold, fungus and bacteria

.
– Optimized for use with pigmented and solvent ink.
– Non yellowing
– Matte, satin and gloss finish.
With the Star-Lac varnish you can be rest and assure that your canvas prints are protected both at the framing work and at your clients' homes. How many times has the printing been folded and cracked, while you or one of your employees has stretched it? Or it has been scratched by nails and similar damages? Or fingerprints were left on dark or black ink colors? Or maybe one of your customers has mistakenly tried to clean the print in his house with a flannel and chemical detergent and damaged the print?
Well then, no more!
Now, with the Star-Lac varnish, you can be calm and assured regarding your prints' framing work and know it is protected if the print folds by mistake, or during the stretching work on the framing table.
In addition, your customers will know that you provide them with a high quality product and that this product can be periodically cleaned with a moist cloth.
Also, your customers will come back to you for more print jobs and would recommend your quality products and work to their acquaintances.
So there is no doubt that the varnish gives canvas prints a more respectable look, it highlights the colors and gives the canvas print vividness.
After trying the Star-Lac varnish you would understand what was missing for to reach maximum perfection product.
Why Water Based Varnish?
As a result to the use in solvent and oil based varnishes, the public environmental awareness has increased as well as the awareness to health risks of using solvent and oil based varnishes. Therefore, the liquid coating industry's products, such as paints and varnishes, have had a research changeover and the varnishes have become a water-based one and the paints have turned acrylic.
Star-Lac varnishes are water-based, non-toxic and environmentally friendly.
Star-Lac varnishes do not contain solvents or oils.
Star-Lac varnishes do not contain acids or solvent materials, which causes the ink on the print to be smudged or fade.
Star-Lac varnishes contain unique nanometers components developed by us after an extensive research. These components protect from UV radiation, which can reach from home lighting or sunlight and hence, we at Star-Lac have developed this protection feature suitable particularly to prints. These components act as microscopic agents in the varnish liquid and actually absorb the UV radiation and do not let it penetrate the coating layer and burn the print's surface and make the color to fade.
Over the years and with changes in the weather conditions and the seasons, the canvas print is exposed to moisture, dryness, heat wave and other weather damages. The Star-Lac liquid varnish seals the canvas print surface and is absorbed in it and in fact, makes the canvas print become impervious to liquids and moisture. The best example is the one which demonstrates that after coating the print canvas, you can spill water or coffee, or even soil it with ketchup and then, all you need to do is just wipe with a wet towel and the canvas print is again, as good as new.
One can also periodically clean the print canvas with a moist cloth to give it a fresh and new look.
The varnish provides the canvas print with protection from abrasion, caused by slight scratches from nails scratching or contact with sharp objects on the surface of the canvas print.
Another unique and wonderful feature of the Star-Lac varnishes is protecting a canvas print from crack. If you want to frame your canvas print on a wooden frame, using the gallery wrap method, the varnish coating actually, makes the canvas elastic and non-breakable and therefore, the canvas print does not being cracked and no fracture appear on the sides of the canvas frame.
Star-Lac varnishes do not make images yellow or change the printed ink's shade so your pictures remain authentic as the original.
Star -Lac dries out quickly and there is no need for a several hours waiting. Exposure to heat would dry out the varnish within less than a minute, so this is very important for those of you who wish to quickly provide the finished works to their customers and by doing that increase his amount of work and customers satisfaction.
Star-Lac varnishes has a unique anti-bacterial additive that is anti-bacteria and mold, this additive prevents and removes mold that may harm the canvas print and/or prevent the bacteria or fungi from growing as a result to humidity or moisture.
Also, the nanometer anti-bacteria additive prevents the air from oxidizing the varnish liquid, when the gallon is occasionally being opened and closed for usage and by this prevents fungi creation in the liquid inside the gallon.
Star-Lac varnish can be used for a wide range of ink printings, whether it is solvent ink, Eco solvent or pigment ink.